Posted by Cottontimer on 06 Apr 2005 | Tagged as: Relationships, Vietnam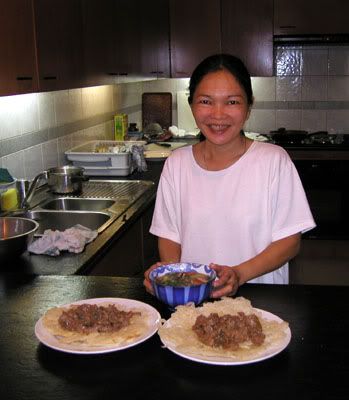 My maid, Tram, showing off one of her dishes, fried pho noodles.
Deep fried rice noodles topped with sliced beef and a sauce of green vegetables, mushrooms, and tomatoes.
One year ago, my domestic helper, Tram, started working for us soon after we arrived in Vietnam. I had my concerns about having a maid, not the least of which is calling her a maid because that's what they're called in Asia. While we've had some misunderstandings, I've grown to appreciate having Tram's help around the house.
She buys fresh produce for us from the local market where foreigners often pay double the price. She helps with ironing and dishes in addition to cooking local Vietnamese food for us a few times a week. She's also great company when we go to the park or out for groceries.
Most importantly, Stephen likes her and feels comfortable with her. It's a relief to be able to ask her to babysit him when I need to get a haircut every few months. She is even more trustworthy because she used to be a kindergarten teacher before her own daughter was born eight years ago.
When I was preparing myself to be a good employer, I read Global Woman: Nannies, Maids, and Sex Workers in the New Economy ed. by Arlie Russell Hochschild and Barbara Ehrenreich. This book plus many of the other articles and books I've read about employing nannies and housekeepers reminded me to treat her fairly especially when it comes to salary. So, to celebrate the one year she has spent with us, I gave her a 10% raise.