Posted by Cottontimer on 21 Apr 2005 | Tagged as: Singapore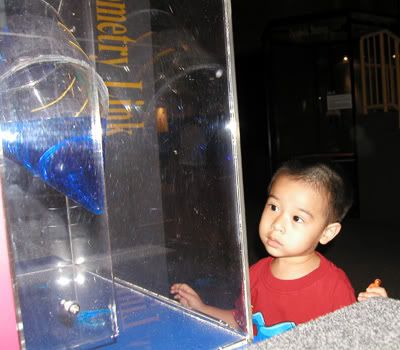 Stephen at the
Singapore Science Centre
.
Note the orange suited astronaut figurine in his hand.
Where were we for the past seven days when cardinals were deliberating over who would be the next Pope and white smoke began wafting from the Sistine Chapel chimney?
We were in Singapore for the main purpose of making some decisions about the renovation of the flat we purchased last year. While most of our friends assumed the responsibilities of being homeowners in debt years ago, we have managed to escape thus far by being overseas. After becoming parents, however, we decided it was time to make a home base in Singapore where Marv's company and family are located.
The most important features of a home for us are comfort and cleanliness. Marv and I are not Architectural Digest people and like to keep things simple and easy to maintain. This made things much less stressful for us although I still find myself second guessing some of our color choices.
We're hoping to achieve a fresh and natural springtime feel and selected:
Wood flooring for the bedrooms and cooler white tile floors for the other areas of the flat.
Varying shades of natural wood for the front door, shoe cabinet and bench, closets, and kitchen cabinets.
Bluebell Classic paint for the walls.
Corian Aurora countertop for the kitchen.
Ivory bathroom fixtures.
The largest refrigerator we could find.
There are still many more things we need to get including furniture, TV's, and a washer and dryer. It's mind boggling. We can almost hear the numbers on our bank account being dialed down.
Stephen didn't have a clue that we were establishing a home for him in Singapore. He was too busy having fun. On this trip, we finally managed to tear ourselves away from shopping malls to take him to the Singapore Science Centre. While there, he pushed every button he could find, took a picture with planet Jupiter, and tried McDonald's chicken McNuggets for the first time (we still eat there occasionally even though I've read Fast Food Nation and watched Supersize Me). Stephen also got a chance to frolick in the playgrounds at shopping malls and Singapore's residential HDB blocks. And, of course, he got his space shuttle and accompanying booster rockets, external fuel tanks, astronauts, satellites, and other space paraphernalia. He doesn't know that I've got other goodies for him hidden away for special days in the future.
Shopping was rewarding for me too. I limited myself to buying just one nonessential item – a Canon Ixus 50. My Olympus Camedia C40ZOOM, which we purchased more than three years ago, has been replaced with this sleeker, faster, more sophisticated, and less battery hungry 5.0 megapixel camera. Hope I won't be similarly replaced in the future.
Apologies to friends in Singapore who we didn't get to see. Someday, we'll just be a hop, skip, and jump away.
Comments Off
Related Posts:
Singapore in the UK
...
Weather At "Home" and Abroad
...
Welcome to Cotton-Pickin' Days 2.0
...
Coming Down the Final Stretch to London
...
My Home Office in Singapore
...
In Praise of Singapore
...
Second Leg of London Move
...
If your comment doesn't show up immediately, it's probably in moderation. I will approve it as soon as I can! Thanks for your patience.
Comments
Sorry, the comment form is closed at this time.